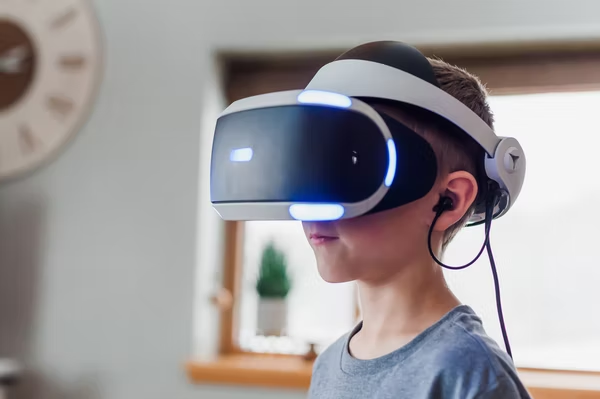 What is Cyberpsychology and Why is it Important?
Are you curious to know what role technology plays in human behavior? Check out this blog to learn all about what cyberpsychology is and why it's an important field to study in the era of technological advancement.
Post Date:
Tuesday, February 7, 2023
Approximately 5 billion people across the globe have access to the Internet and spend most of their time using mobile devices, computers and other types of technology. In a world where so much of our everyday behaviors occur online (e.g., banking, shopping, working, and communication with friends and family), it's not surprising that we've become increasingly concerned about how living in a technological age affects us as individuals and as a society. 
More importantly, our increasing use of social media raises questions about the type of psychological impact it can have on human behavior. Does spending too much time online make people anti-social? Should children and teenagers limit the use of smartphones? Does playing violent video games lead to violence? Cyberpsychologists have examined these questions and are figuring out what practical implications they may have for society in the future.
What is cyberpsychology?
Cyberpsychology is the study of psychological processes related to, and underlying, all aspects and features of technologically interconnected human behavior. In other words, it's the psychology of cyberspace that focuses on the intersection of technology and human behavior. This field explains how humans interact with each other in a virtual environment and the potential complications that may arise from it.
Researchers in cyberpsychology can examine questions like why people's behaviors may differ online or why people use social media as a coping mechanism.' However, cyberpsychology not only studies how technology changes how people communicate and interact but it's also concerned with how people and technology interact with one another. For example, cyberpsychologists may also study controversial topics like virtual reality, artificial intelligence and transhumanism. 
Advances in technology will continue to change how humans interact and you should know cyberpsychology's importance for society in the future.
What does a cyberpsychologist do?
The main task for a cyberpsychologist is to conduct research. Whether they work in the private sector, in academia or in private practice, cyber psychologists research many disciplines within their field including psychology, sociology, forensics, computer science and philosophy.
Because cyberpsychology is the study of how online and virtual technology affects human behavior and how our behavior changes online, much of cyberpsychology research has been driven by the Internet and social media. Thus, cyberpsycholgists examine phenomena like video game and Internet addiction, social media anxiety, augmented reality and personality disorders linked to social media.
Here are some questions that a cyberpsychologist might research:
What is the potential impact of online social networking on a person's well-being?

How does playing video games impact a person's brain development?

What are the positive and negative mental health outcomes of using social media (e.g. anxiety, depression etc.)

How does narcissism relate to selfie-related behaviors?

Can generation differences cause family communication problems?
Additionally, cyberpsychologists are also studying technology's impact on mental therapy. In fact, virtual reality is being used to treat people with depressive symptoms and other mental disorders. Their work may involve researching e-therapy as an effective option to in-person therapy.
Why is Cyberpsychology Important?
In today's society, most of what people do is connected to technology, which has created a shift in human behavior. Cyberpsychology has become a crucial component in studying how humans interact and behave with technology and devices. Here are some ways in which the study of cyberpsychology can impact how the public uses technology.
1) Assists in fostering human-technology interaction
Since the advent of cognitive technologies, our society has experienced an era of rapid technological advancement where we now have self-driving cars, AI computers, smart devices and virtual assistants. Consequently, technology has radically changed the way people interact with each other and we have become increasingly connected to the digital world. Thus, the overuse of technology can lead to negative psychological issues and a more significant adverse impact in children.
However, there are some benefits of using technology. For example, people use social media to conveniently meet friends and family while other technologies like phones have made complex tasks more efficient. Cyberpsychology helps researchers develop technologies to enhance human behavior rather than hinder it. Although technology has ultimately shaped how we interact with each other, cyberpsychology helps us leverage it to become more valuable in our lives.
2) Raises public awareness about cybersecurity and privacy issues
Before the origin of the Internet, cybersecurity was not a topic that was thoroughly researched—however, it is increasingly becoming a topic of concern for many researchers. Cybersecurity is the practice of using processes or technologies to protect sensitive information from digital attacks. Since most of our daily activities are done online, cybersecurity is an important issue that individuals, businesses and governments should be taking seriously.
In fact, the number and cost of cyberattacks continue to grow as cybercriminals have led cyber attacks targeting government facilities, businesses and  infrastructure. Cyberpsychologists are undertaking research and utilizing what they know about people's behavior in cyberspace to help inform the public that'll help them avoid the dangers of using technology. Thus, researchers can raise public awareness to encourage people to become more conscious of the security of their personal information. 
3) Provides advanced care for people with various health conditions
While many people may assume that virtual reality (VR) and artificial intelligence(AI) are only useful for providing a fascinating entertainment experience, this technology can have a great impact in the healthcare industry. In fact, VR has already been used in the healthcare industry by professionals to provide lifelike training to doctors, personalized mental and psychological therapy and pain management. 
AI is also used in the healthcare industry to simplify the tasks that are usually done by medical professionals. For example, companies have developed machine learning technology to help pathologists make more accurate health diagnoses so they can quickly develop better medical treatment. By studying this emerging technology, cyberpsychologists have made it easier for medical professionals to treat common health conditions.
4) Makes it more convenient for doctors to provide care to their patients
While technology provides more advanced treatment for patients, it can also make it convenient for health professionals to provide access to those who need therapy. One of the most important limitations in healthcare is accessibility and affordability. Telehealth is an alternative that has emerged from research by cyberpsychologists and can be used by people who may live in areas where there aren't as many healthcare professionals nearby or they feel uncomfortable meeting face-to-face with a doctor. 
Online therapy also benefits the therapists themselves as it provides flexibility to provide specialized care to their patients. Telehealth can reduce costs as patients and doctors don't have to commute to an office and patients can easily pick the therapist they want online.
Start your Cyberpsychology journey at NJIT
Technological advancements will continue to reshape society which is a process that will require further examination. NJIT is a great place to take the first steps toward career and educational opportunities within the field. NJIT's B.S. in Cyberpsychology program will expose you to foundational concepts and prepare you with the applied skills needed in cyberpsychology jobs. If you're excited to learn about the intersection of psychology and technology, virtual reality, artificial intelligence, digital research or cybersecurity, then don't hesitate and apply today!